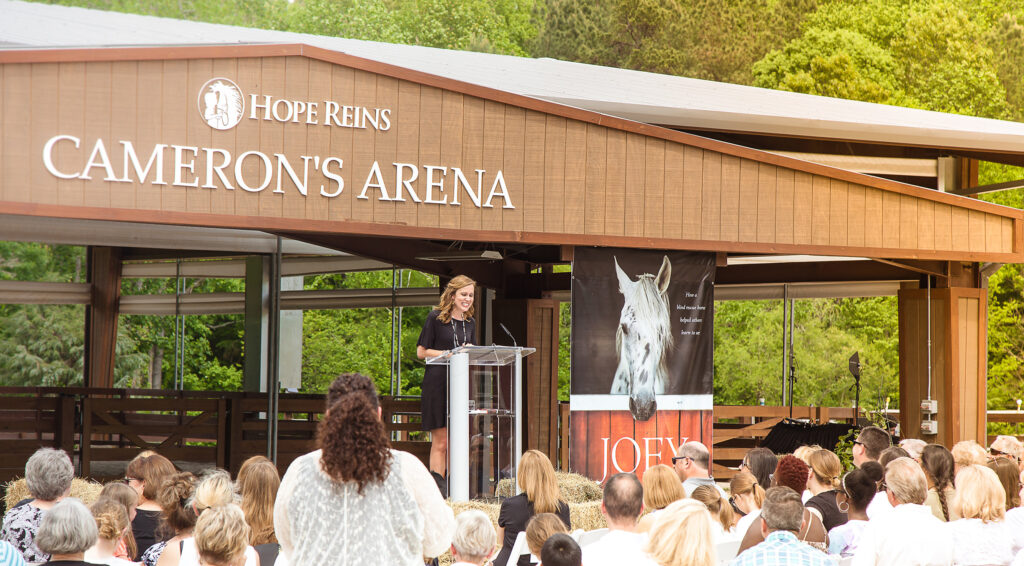 Need a speaker for your next event?
Whether it's a book club, a women's event, a fundraiser, a chapel service, or a group of kids, Jen loves meeting people and sharing stories, hope, and encouragement. Listed below are some of the talks she has given. Most are between 20-30 minutes but can be adjusted to fit the time frame of your event. She is also willing to personalize a talk to a specific topic or theme.
Use the "Contact Us" form to tell Jen about your event and to get more information.
BOOK CLUB DISCUSSION
Have questions about the book writing process?
Want to know why Jen (a non-horse person) decided to write a book about a horse? Or how she choose which animal stories to include in Pawverbs?
Want some behind the scenes (and screens) of JOEY and Pawverbs?
Jen loves speaking to book clubs and reading groups of all ages and group sizes.
FINDING HOPE IN THE EYES (AND LIFE) OF A BLIND HORSE
Jen shares her story of meeting a blind rescue horse named Joey, and how his story can help each of us experience the life-giving power of hope.
EMBRACING NEW CHAPTERS
What if the painful ending you are experiencing is really a beautiful new beginning in disguise? The book JOEY begins with what looks like the end of Joey's story. However, God was just getting started with the horse. In this talk, Jen helps the listener identify areas where they may have gotten stuck at a painful ending, and provides tools to help them take the first step toward embracing a powerful new beginning.
LESSONS FROM THE ANIMAL KINGDOM
This talk ties into Jen's second book, Pawverbs, and focuses on what animals can teach us about God, ourselves and each other. Highlighting several stories from the book, Jen will help the listener learn to "paws" and pay attention to what God is revealing to us every day in the world he has created for us—a world full of animal ambassadors of his grace.
PURSUING A SIMPLE FAITH IN COMPLEX TIMES
One of the most powerful lessons Jen has learned from her animals is the power of simplicity. Animals aren't impressed by excess, degrees, followers or statistics. They just want to be present with people. This lesson has powerfully impacted Jen's life, especially her faith. Over the past five years she has been on a quest to simplify her quiet time with the Lord. In this talk Jen shares how the pursuit of a simple faith can have profound, life-changing results, and provides tools and resources to help listeners pursue a simple faith for themselves.